It's been four weeks since we returned to Austria and gave up on a dream, that was our trip around the world as a family.
Thinking about it, the four weeks felt much longer. We are quite busy rearranging our life, obviously under quite odd circumstances as the world is ridden by the Corona Crisis. Yet we are thankful for every single travel moment and will soon be sharing a lot of the with you.
Travelling during the Corona Crisis
We spent the first two weeks of 2020 in New Zealand and from there headed back to Asia. As China was not on our itinerary, the Corona Outbreak in Wuhan was until then not much more than a side note for us.
Nevertheless we paid closer attention to the topic in the days before our departure to Malaysia, as we did not have planned our travel route yet. We only knew that we'll spend a good part of the first quarter of 2020 in East Asia.
The other epidemic in Malaysia
Malaysia has a huge Chinese community and the Chinese New Year was just around the corner. Obviously the Corona virus was much bigger news there than in New Zealand. Funny enough our Grab driver in Kuala Lumpur warned us about the current Influenza outbreak first.
The past months had been amazing, but with long road trips in Namibia, Australia and New Zealand also very exhausting. So we decided to visit Malaysia without seeing it (Sorry Malaysia) and get some stuff done and work on our personal well-being.
We rented an apartment in a luxurious Condominium in the south of the country. Well, and for two days we really enjoyed having a swimming pool, a fitness center, a Lego themed kid's play room and amazing views from the 31 floor. Then Doris fell ill with really high fever, head ache and muscular pains. With my vast medical diagnosis skills and Google I figured it can only be one of roughly twenty different deceases and probably it's viral.
"You should go see a doctor"
After four days Doris still had high temperature and the date of our departure to Singapore came closer. In the meantime the Corona Virus started spreading outside of China and most Asian countries started to take drastic measures. A medical consultant gave us the advice to go see a doctor and get a medical statement, as we might need it to travel. We had seen more and more people wearing masks and we also started using hand disinfectant, but the it still seemed like a very distant menace.
It was end of January and for the first time the effects of Corona prevention really go to us when Doris and I went to a private hospital around the corner, just next to Legoland. At the entrance we had to sign into a list with our contact details, we had to disinfect our hands and we had to wear masks.
The service in the hospital was world class, felt more like being in a weird, but fancy Hotel as we were received at reception and had a guide lead us the way to the doctor.
Positive test result, but…
The doctor said it probably is "only" influenza, but because of the recent Corona Crisis she'll have to check for the SARS CoV-2 as well. So Doris got a x-ray of her lungs plus a nasal test for viral infections straight away. They sent us home and called a couple of hours later when the test results were ready. The test for Corona was negative, but positive for H1N1- 2009!
I picked up the results and received some extra masks and the advice to stay home as this Influenza is extremely contagious.
Obviously we concluded, that the kids and me are likely to fall flat within the next couple of days too.
We had a few days left and waited for the great outbreak, but nothing happened. Despite sharing a room with Doris before and when she was sick, we luckily somehow managed not to get infected. Eventhough we were already through the incubation period for H1N1, we still feared that one of us would suddenly get a fever on our passage to Singapore, where we had booked beds in a pod hostel. On top of that the breaking news of the day before our check out was that Singapore wouldn't let anybody with a high temperature enter the country.
First heat cam check in Singapore
It was end of January and the first time we traveled with face masks. By bus, from Legoland to Singapore. At the border station we passed a corridor with heat cameras on both sides and for the first time we had to fill out a health statement.
Singapore was crowded and busy, but there were definitely way more people wearing masks now. We also put them on from time to time and we disinfected our hands more often.
Nevertheless we stayed at a pod hostel, that was pretty cool and felt a lot like a shared flat, we also enjoyed the food market and the light show at the super trees. And we did not think about the Corona virus, not even when we visited a Chinese Buddhist Temple in China Town.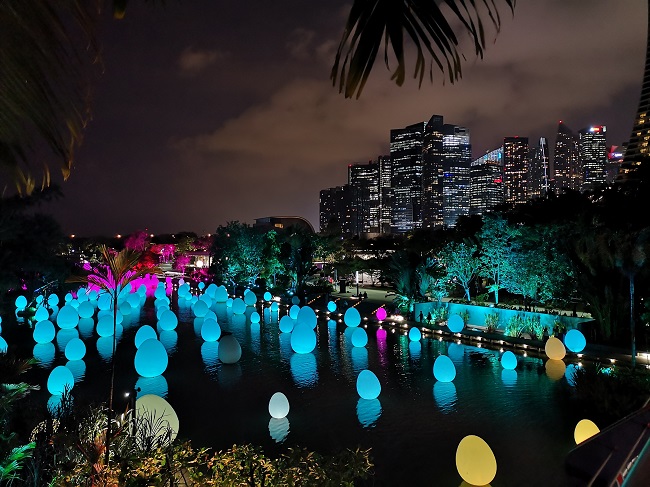 Is it Corona or just the sun – Corona Crisis in the Philippines
From Singapore we went on to the Philippines. Singapore – Cebu was our first flight wearing face masks. The Philippines started to take drastic measures. They even sent an airplane full of Chinese tourists back to China, without letting anybody disembark. A day later they banned all Chinese from entering the country. Other than that the Philippine authorities specialized on taking everybody's temperature at every possible occasion.
Basically the effects of the Corona crisis in the Philippines for us were the lack of Chinese tourists, the sudden drop of accommodation rates and pretty random situations with amateur medical staff and fever thermometers. Mostly at harbors.
Our favorite moment was when we arrived in Bohol and a ship load of people had to stand in line in the blazing sun, while two dudes in the shade of a party tent checked the traveller's temperature one by one. Obviously after a while only those who had their forehead covered with something passed the test. Everybody else had 38+°C and had to wait for registration and a second test. Doris and the kids also had close to 39°C, which was obviously not true, so they snuck off as the waiting area filled with fellow travelers.
We had a 30 day visa for the Philippines and a Japan Rail Pass due to be activated in Japan until 12 days after the expiration of that visa. So, we had three options at hand. Stay in the Philippines and pay € 200 to extend our visas for a couple of days and then fly to Japan, go to Japan directly and stay there much longer than expected or squeeze another country in and go to Japan from there.
South Korea during the Covid-19 outbreak
That's how we ended up going to Seoul just when every country started adding South Korea to banned countries. To be fair, at the time we booked the flight there were not even 30 cases in South Korea.
However, it was mid February just 10 days before our scheduled flight, breaking news were that the number of new Corona cases shot through the roof in South Korea, reporting more than 1700 cases in just one day.
Should we cancel or should we go?
Our first thoughts were, if we should cancel the flight and find another solution. This was getting more complicated as the estimated dates for Cherry Blossom in Japan were released and accommodation rate throughout Japan skyrocketed to 4-6 times of what they were the day before.
So I decided not to rush decisions yet. The next couple of days we thoroughly followed the news and I did a lot of online research about the virus in general and especially the situation in South Korea. I was impressed by the swift reaction of the Korean authorities and also by the vast amount of detailed information about the clusters and infection chains. Eventually we decided to go ahead as planned, mainly because the Epicenter of the Korean Covid-19, the city of Daegu was isolated and 3 hours away from Seoul. We only wanted to visit Seoul and at this point there were only 60 confirmed cases in the capital. Also from what I had seen so far, I thought if any country could handle an outbreak it would be South Korea.
Seoul: we will come back for sure!
We loved Seoul. It was a weird week and a strange vibe; Covid-19 precautions was omnipresent; All the museums and most indoor attractions were closed; But still, we loved it. At some point we'll have to go back and see Seoul as it really is.
What impressed us in terms of handling this was, that there was no national lock down. The South Koreans had narrowed the infection chains down to a specific region and locked that one down, but in the rest of the country people were still on the streets.
There were hand sanitizers everywhere and many shops had a good choice of face masks. It's as simple as this, South Korea was obviously prepared for such a situation and this made us feel safe and comfortable. Case numbers rose in Seoul too, but at the time I am writing this there are 595 confirmed cases in Seoul, 2.015 in Vienna and 190.200 in New York. Neither Vienna, nor New York had a single case when we were in Seoul.
The invisible prevention – Corona Crisis in Japan
We left Seoul for Japan. Japan was one of the few countries that had not yet put a travel ban on travelers coming from South Korea in general. They had one in place for Daegu and neighboring regions. When we went to the Airport on a Friday at 5 am we got notice that Japan had just changed this. From Saturday 0.00 hours all travelers arriving in Japan from South Korea would automatically be held in quarantine for two weeks at special facilities in the airports.
We were really lucky to arrive in Japan 12 hours before this measure was installed.
It was a very strange vibe at the airport upon our arrival. Things were already being set up to filter travelers coming from South Korea and separate them. An improvised way finding signage consisting of hand written sheets that said 'From Seoul' led the way into a labyrinth of alleys formed with yellow and black striped tape.
While Doris was still a bit irritated by all of this, the kids and I got an instant adrenaline and endorphine flash as we went through the exit of the Osaka airport. We were truly happy that we had made it there.
First impressions
Our first impression of Japan was very different to what we had expected. We had thought it was more like Seoul. But not. There were people on our train who didn't wear face masks. In general nobody seemed as concerned as in corona crisis ridden South Korea. One guy was obviously sick and wiped his runny nose with just about every inch of his hand. We were shocked, as this would have been unthinkable in Seoul. He would probably have had the train all for himself there. However, he was on the other side of the car and we didn't have to get anywhere close to him. Nevertheless it seemed as if Covid-19 and the Corona Crisis was only a side note in Japan.
In Osaka we stayed at a hostel in the famous Den-Den Town. The area famous for Anime and game shops. While the streets were crowded, our hostel was empty. We had our little Tatami room and the common areas – a guest kitchen and roof terrace – all for ourselves. To be honest it took us a while get used to Japan.
Japan Rail Pass in times of Covid-19?
Initially we wanted fully exploit our Japan Rail Pass and do as many trips as possible within the first two weeks in Japan. Before spending the last week in Tokyo. That's why upon arrival in Japan we had already booked stays in Osaka, Kyoto and Fukuoka. Obviously that wasn't a very Corona-apt plan. So we decided to take these trips and then base ourselves somewhere. We would then do a couple of day trips from there and see how things develop.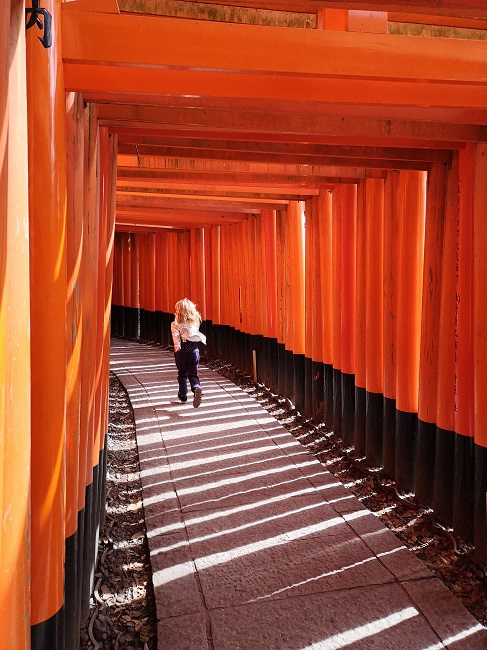 We fell in love with Kyoto and decided to come back and set base after our trip to Fukuoka and Hiroshima. Life in Japan seemed to be normal and unimpressed by the pandemic. Well, there were hand sanitizers at every shop's entrance. Also the trains were not as crowded since lots of Japanese companies had sent their employees into teleoffice. But I actually thought they're not taking this serious enough.
It took us some time to notice…
Until in Fukuoka we noticed a little detail. Every time somebody entered the Starbucks one of their employees started a tour and collected dishes in the restaurant. Seamlessly they also cleaned the door handles with alcohol then. Japan is all love for details and that's also how they were handling this situation. There was no big panic and drastic measures, but lots of considerate and thoughtful actions that did the job.
Intrigued by Western Media articles that speculated about the Japanese government covering things up, I researched the status of the pandemic in Japan. I was actually quite surprised to find extremely detailed and yet well summarized reports on the official government websites. You could actually check case numbers per city and prefecture. Results showed cases with their confirmation date and current status.
This kind of data is cool in a country where thousands of people travel hundreds of kilometers each day. Even if they ran very few tests there, it also gave us an idea of the hotspots to avoid.
Japan is all about the details
Along the way we started noticing more and more of these things. Like shops, that had put an extra table in front of the cashier, so a minimum distance was secured or employees in super markets handing you things at a self service area.
I was most impressed when we returned to Kyoto and picked up our luggage at the locker boxes in the train station. We unlocked the locker through a touch screen panel and took out our bags when a man appeared from nowhere, cleaned the touch screen and the handle of the locker box and swiftly disappeared again.
This happened so fast and unobtrusively just next to us that I was actually the only one to even take notice. Fighting the spread of the virus like a Ninja, really!
We felt comfortable in Kyoto. Our travel plans shrunk to a minimum, we got a nice apartment and spend a lot time open air and in the nature.
Fortunately Kyoto is an amazing city, with tons of outdoor sights and activities.
Our apartment was in Minami-ku, an authentic Japanese neighborhood and only a few minutes from the riverside. This made avoiding public transport easy, as we could take an enjoyable walk along the riverside to most of the main attractions.
Why we interrupted our trip
In early March Doris' grandfather died back home in Austria. No question we would interrupt our trip and go home! We even had a travel insurance that covered the interruption of the trip and would have let us travel on at a later stage.
It was just then that the number of Corona cases in Europe went through the roof. The Austrian government took pretty drastic measures to prevent a similar development as in neighboring Italy. Suddenly the scenario had changed completely. While everybody asked us to take care in Asia and if we're safe over the past weeks, we found ourselves making the same calls to folks back home.
Luckily we didn't split up
Also home wasn't a safe haven anymore. We even considered to split up and have Doris fly home for the funeral, while I'd stay in Japan with the kids. Luckily we didn't do this. By mid March the Austrian Ministry of Foreign Affairs urged all Austrians to come back home as long as this is still possible. It was already likely that air traffic in and to Europe will be shut down for now. And in the long run cut to a minimum.
In the same week the Corona Crisis made it to America and the US announced a travel ban on European citizens. It was pretty sloppy in its wording and nobody could tell us if this only concerned travelers entering the States directly from Europe or if EU passport holders would also be affected. All of this happened when we were already in Japan, one of our main goals of this journey and a month short of our long desired trip to Hawaii.
The Covid-19 crisis had become an annoying ever present circumstance since our time in Malaysia in January.
We had to make a decision
At some point, however, we found ourselves in a situation where we had to take a decision. Furthermore we knew in advance that there was no option that we would be comfortable with. After the US travel ban on Europeans, rising case counts in the US and without the funds to finance a possible quarantine in Hawaii following our intended route was just not an option anymore. Actually we were also uncertain about how trustworthy the news from the US were.
At that point Hawaii had not yet reported any cases. While in Japan there were three travelers put in quarantine upon returning from Hawaii after a three week vacation. They had tested positive at the airport.
So we basically had the options to either stay in Japan, return to Austria asap or find another place to escape the Corona Crisis. We even discussed altering our route and go to Martinique as this was technically Europe.
It's complicated
We got news from Austria, reporting that the Vienna Airport is already only working at 20% of its capacity due to the Corona Crisis and could shut down completely within the next week.
This eventually pressured us into buying a ticket to Vienna, as it became uncertain when and if we could go back in the following months. But having been to South Korea within the last 14 days complicated things a little bit more: We wouldn't be able to enter any airplane or country without a health certificate. But in Japan (like everywhere else) it's almost impossible to get tested without having any symptoms. So to prevent being stuck somewhere on the way back home, we decided to stay in Japan until 14 days after leaving Seoul.
Going back to Austria in the end was the only realistic option, but we were not happy with it. It was also a bit crazy to leave a country that seemingly had everything under control. Especially parting for Europe which at this stage had turned the region with the most cases worldwide.
Don't forget to look on the bright side of life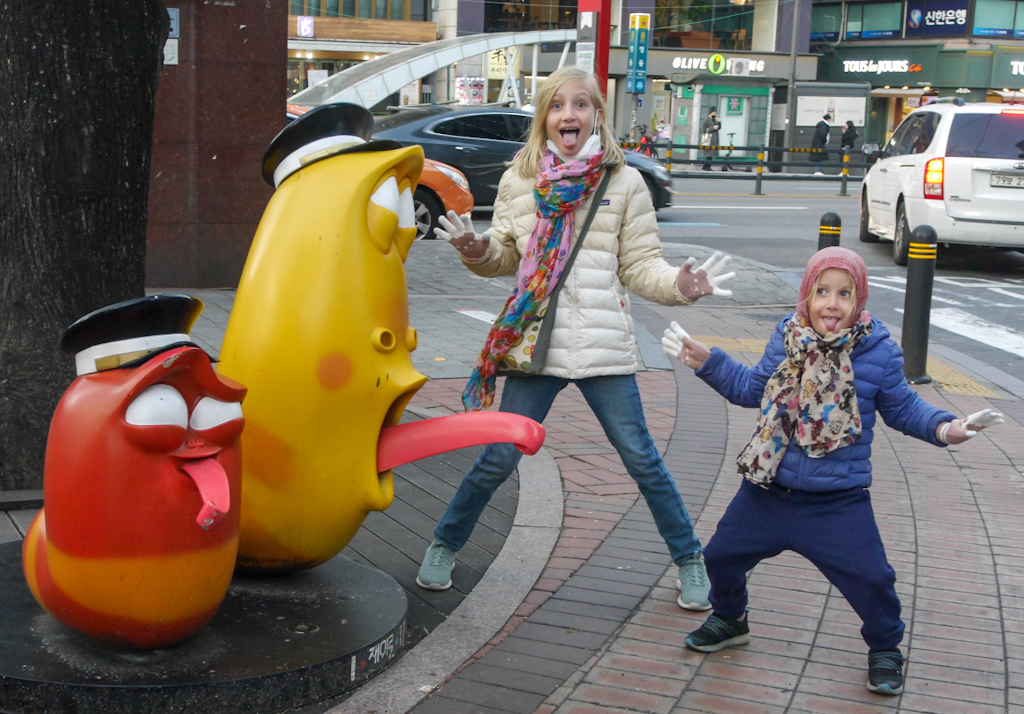 After two weeks of quarantine, we're finally starting to settle again. It seems that even if the Corona Crisis wasn't the reason why we interrupted our trip in the first place, it might well be the reason why we won't be able to resume our big project.
Nevertheless we are incredibly thankful for all the amazing things we've seen along our big adventure. We're happy we could at least put this through for half a year. The bright side is that Sophia now has some extra time to prep up for school and we have quite some time to go through all of the content we created . So stay tuned!
---