Two weeks, three countries, seven cities and over 4000 km.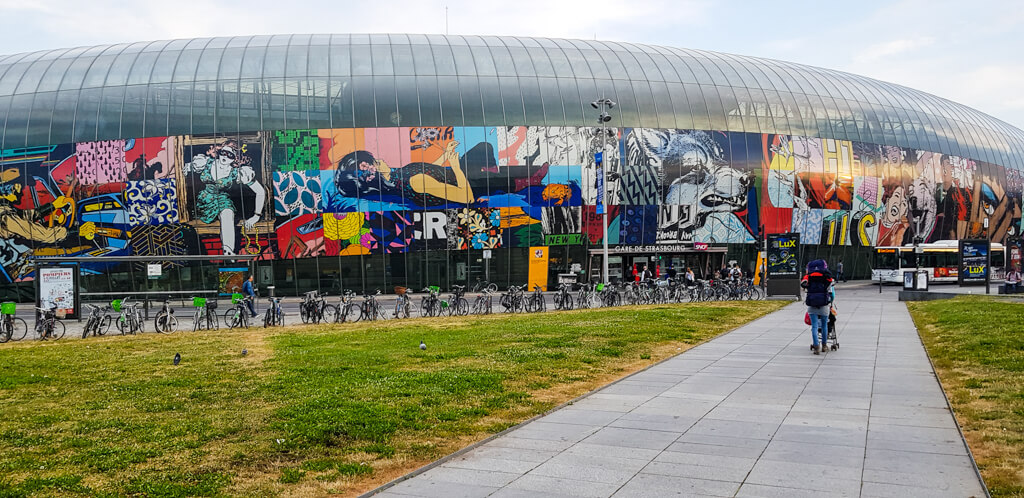 Have you ever wondered whether an Interrail trip as a family can work? From experience we can tell trainrides, backpacks and kids go together surpisingly smooth.
Our Interrail family adventure started as we boarded the night train from Vienna to Zurich on a mild summer evening in July. We packed with two large and two small backpacks, lots of snacks, and at least as much anticipation. So much for preparation
How to interrail with kids:
Order your tickets: With Interrail if you live in Europe or Eurail if you don't. Make sure to order a pass for each family member so that seats can also be reserved for each one. Because without a ticket number, no free reservation is possible. The tickets for the children are free.
Make sure you have time to plan your trip. Interrail gives you some handy tools to do that, but there are lots of options and therefore tons of details to take into consideration. Especially if you bought a global pass. Involve your kids in the planning. That just brings them aboard and raises the excitement before the trip.
Pack efficiently. Most trains in Europe don't provide a lot of storage. So the lighter you pack, the easier it will be to maneuver in and out of the trains. Especially with transfers.
Bring games and entertainment that are apt for train rides.
Sketch books are a great way to calm down
Do you have a beach or a giant dune on the itinerary? Take a small set of sand toys with you when traveling with small children. It was a typical "Do we really need that?" for us, but one of the last things we would scratch off the packing list in retrospective.
Download books on your E-Reader so you don't have to carry too heavy
Zurich – A quick hello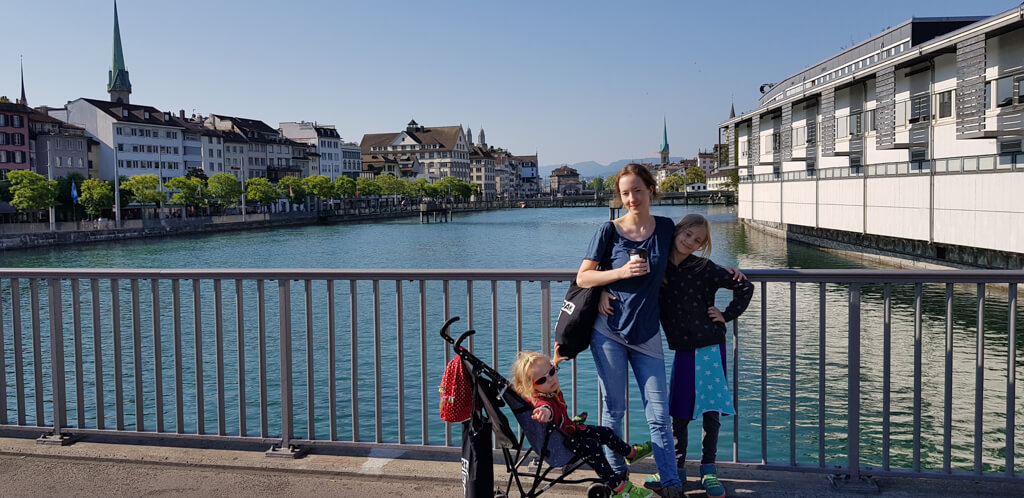 Rocked to sleep quickly, we woke up early in the morning to glorious weather between the Swiss mountains just outside of Zurich. We had only planned a short stopover in Zurich and therefore wanted to lock up our luggage at the train station. The lockers only accepted coins, so of course, we didn't have any Swiss francs with us, and we had to withdraw money first and then have it exchanged for coins. The bill-to-coin machine didn't work, so we had to buy something from a small kiosk: chewing gum and coffee.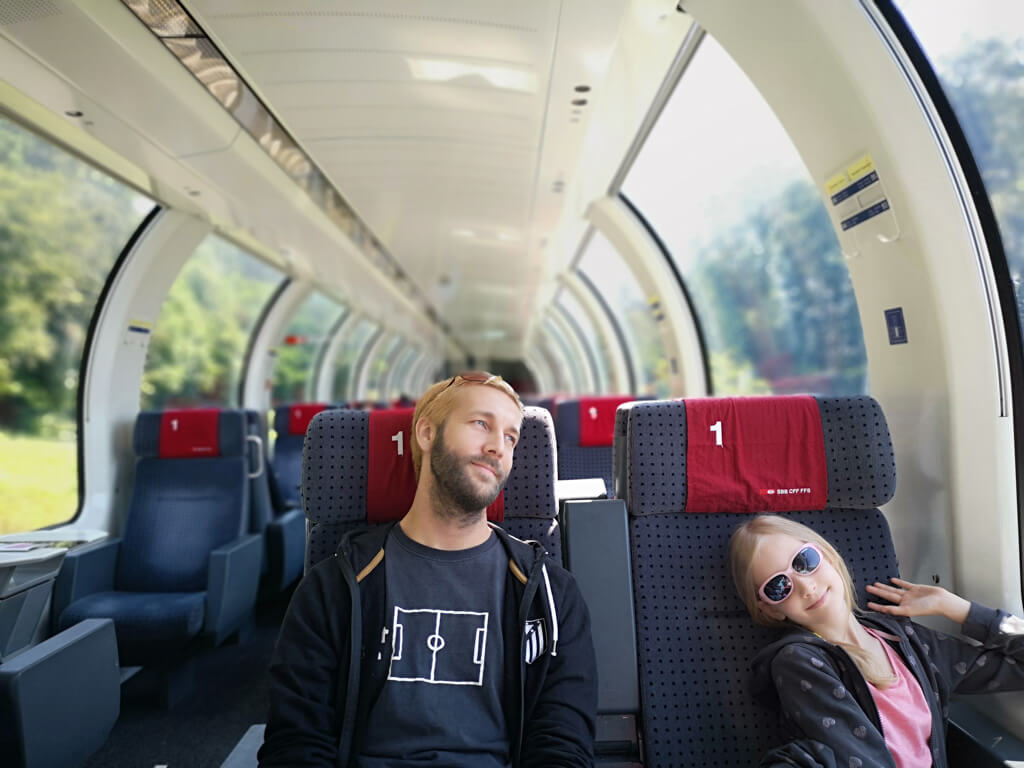 After a short tour through Zurich in the morning, with a view of the beautiful Lake Zurich, we had a "we'll be back, Zurich!" moment and continued to Basel.
Stop-over in Basel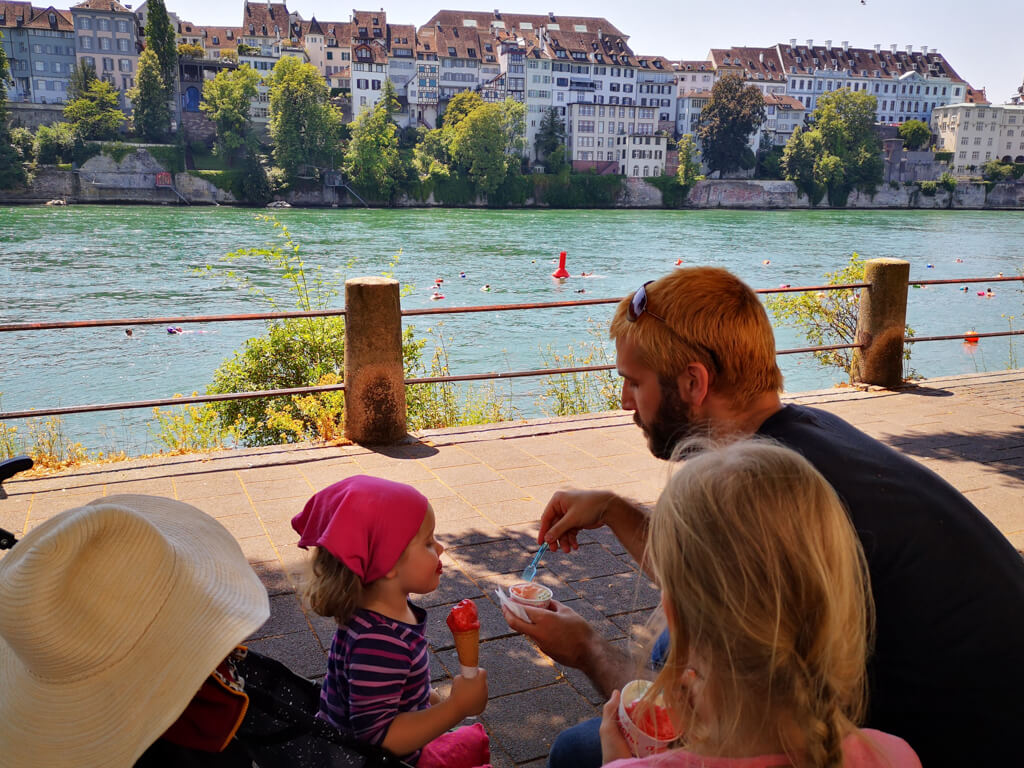 Basel, we will be back! But then definitely with a "winding fish" (an inflatable, waterproof swimming bag in which clothes, cell phone, etc. can be stowed away). Unfortunately, our bathing suits and backpacks stayed in the luggage compartment at the train station, so we were among the few in the heart of Basel who did NOT walk upstream in bathing suits and with "Wickelfisch" before drifting down the Rhine. Nevertheless, we dipped our toes and ate some really delicious ice cream before crossing the Rhine on one of the four small ferries and making our way back to the train station.
Off to Strasbourg!
It was our first longer stop on the trip, a city with a beautiful center full of flowers, water, street art, playgrounds, and life. Thanks to the ideal location of our Airbnb apartment (between the train station and the old town), we could walk to the center within a few minutes, letting ourselves drift again and again during these three days, with regular stops at the numerous playgrounds! Since we were in Strasbourg in early July and the summer was really hot, we went looking for a place to swim and found the Lac du Baggersee, which was easy to get to by tram from the train station.
The Dune du Pilat and its spectacular sunsets
Our next stop was the Dune du Pilat. The train ride to Bordeaux at 7 a.m. was our first trip with a TGV, very fast, very exciting, and fully packed. Without a reservation, there was no chance of getting a seat (luckily we had reservations). From Bordeaux, we went to Arcachon, then by taxi (because we missed the bus) to Les Flots Bleus campsite right at the Dune du Pilat.
So much sand! Well, that was probably to be expected with a 114m high and more than 2km long sand dune on the Atlantic Ocean; the height, amount, and color of the sand were overwhelming. We tried very hard to pack light for this trip, but we still found some space for a small sand playset, much to Amélie's delight. As soon as she saw the sand dune, Amélie's eyes lit up, and she asked if we had any sand toys with us. With even more joy in her eyes, she started playing. Our mobile home was small, cozy, with two mini-bedrooms, cooking facilities, and a bathroom. Within a few hours, it was filled with what felt like half a dune of sand.
We spent four days at this campsite, in the sand, by the sea, and by the pool, and managed to watch a spectacularly beautiful sunset from atop the dune on the last evening. However, we didn't realize that the sun didn't set until around 10 p.m., due to summer and being far west. Keeping our tired and extremely grumpy two-year-old happy until the sun finally went down, two hours past her normal bedtime, was a challenge. Moreover, it was cold too. In retrospect, it was worth the hardship.
The next day, we packed our backpacks again and continued our journey to Paris.
Two days in Paris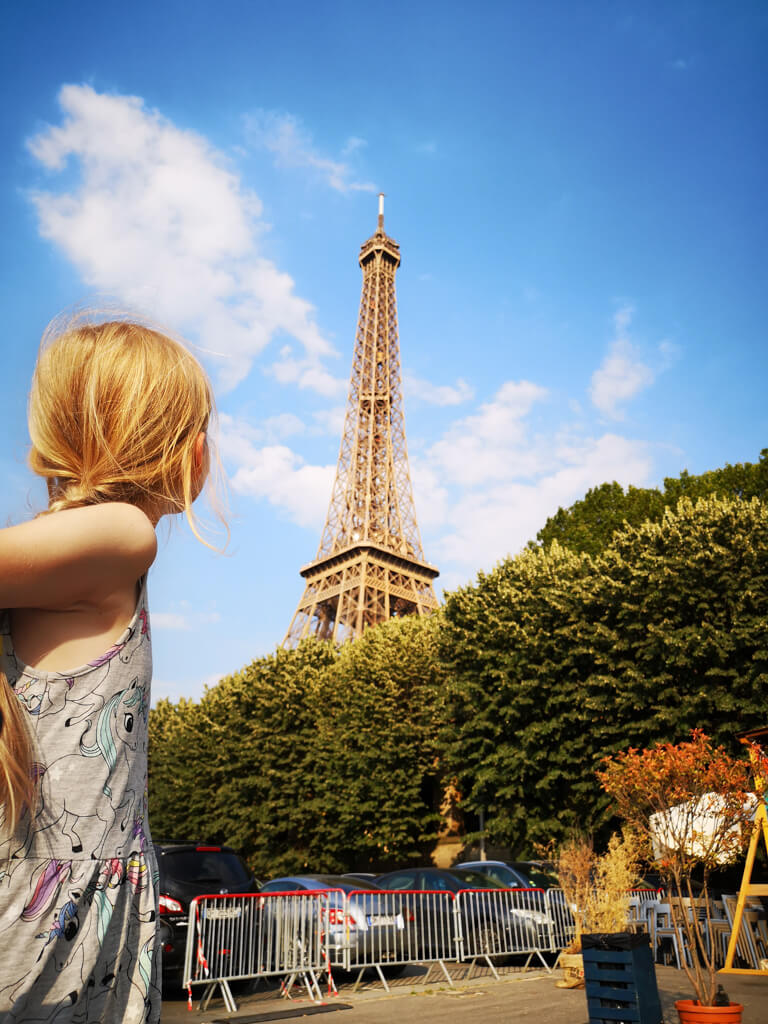 During our two-night stay in Paris, we saw so much! We stayed in a beautiful old Parisian apartment in the 16th arrondissement, about a half-hour walk from the Eiffel Tower. Our originally booked accommodation in Paris was canceled at short notice by the landlord, but luckily we were able to stay at the apartment of a friend's parents at a good price. Otherwise, we might have skipped Paris since we would not have found any affordable accommodation so spontaneously.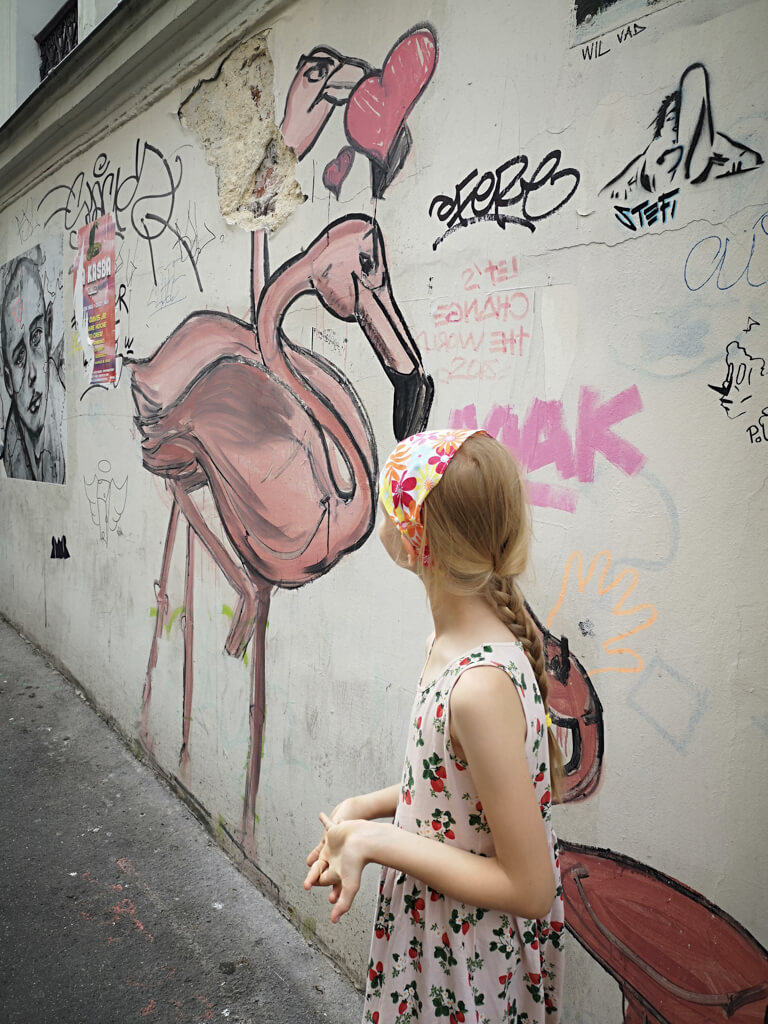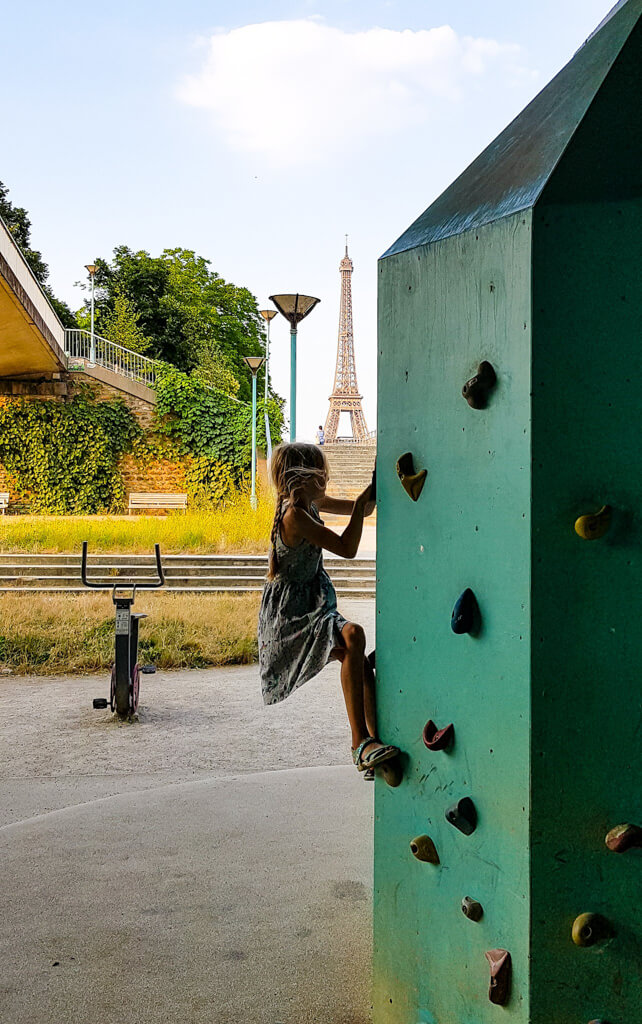 We walked around Mont Martre, searched for and found street art in the beautiful district, walked along the Seine, admired the Stravinsky Fountain (which was unfortunately out of order) and the Center Pompidou. Of course, we ate Crêpes several times. We passed the Louvre and walked through the Tuileries. We even visited the Statue of Liberty and did gymnastics on public training machines next to it. The countless bridal couples on the Pont de Bir Hakeim were particularly impressive. It is an absolute hot spot for wedding photos with the Eiffel Tower in the background. We counted nine wedding couples plus photographers.
Oostende and a daytrip to Bruges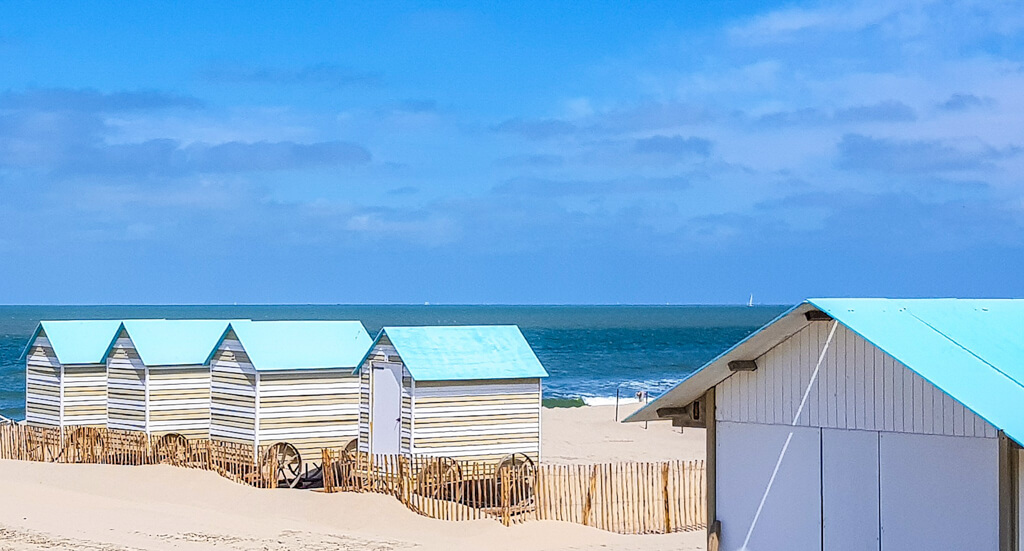 From Paris, we drove to Oostende via Lille, where we set up our base for a good week in a nice apartment on the outskirts. The center was easily accessible by public and walking distance, and also by walking distance and a small free ferry that ran every 10 minutes. Our accommodation was just a few minutes' walk from the beach.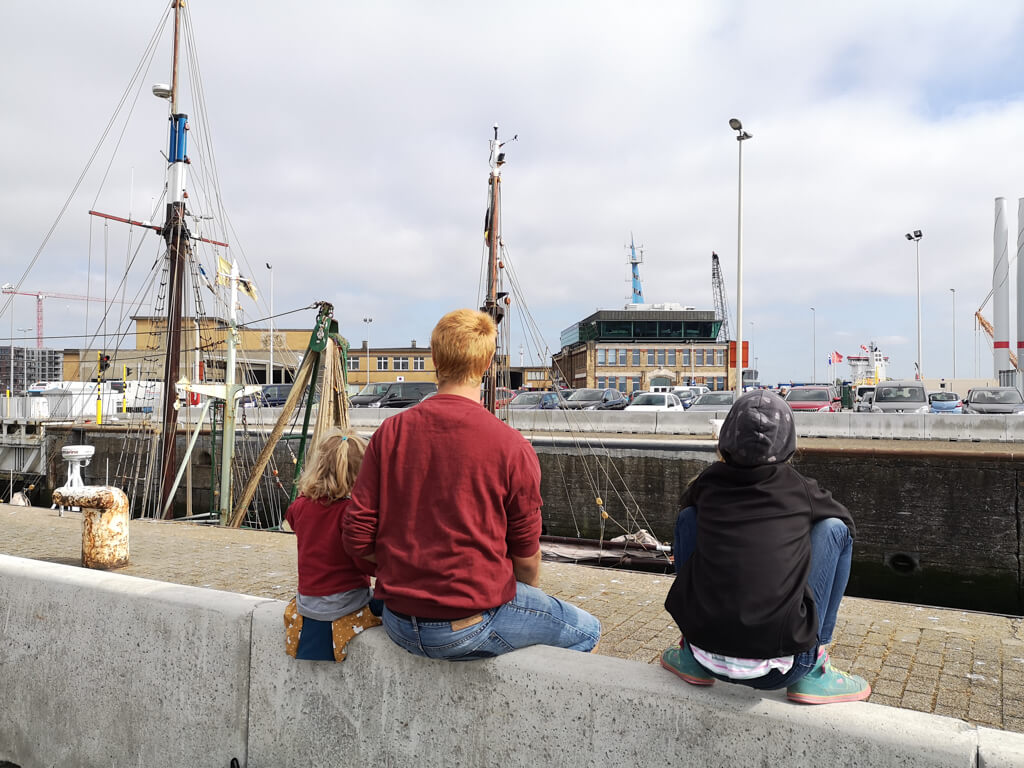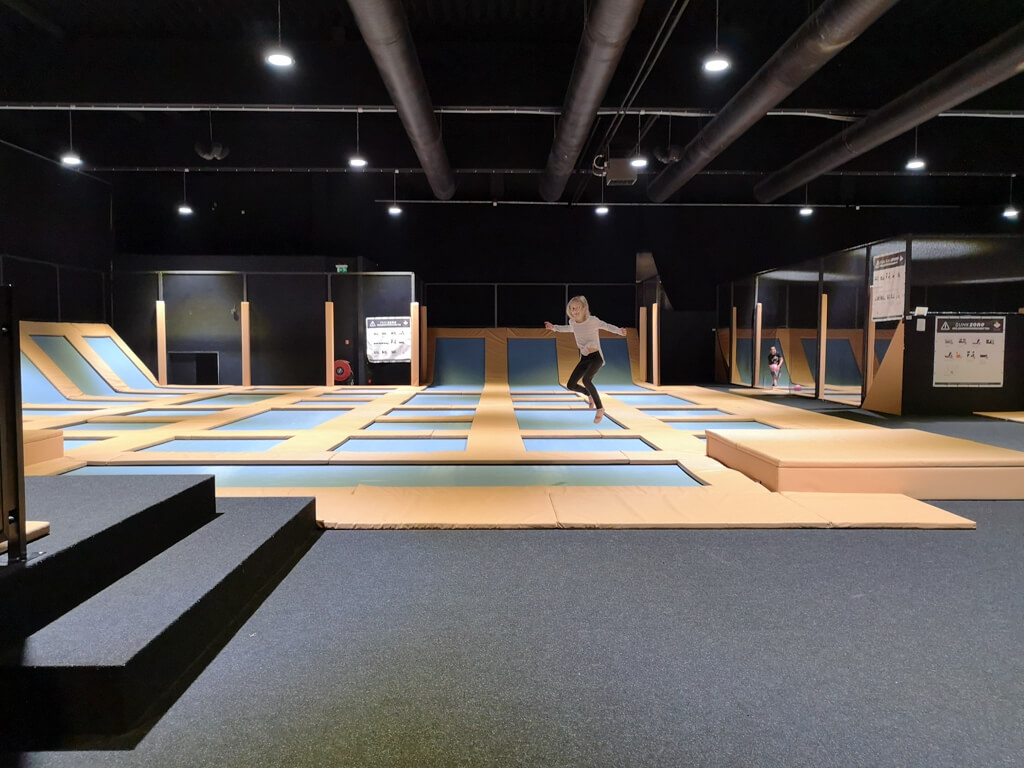 Between the beach and the apartment, there were two large playgrounds for toddlers and older children and a large indoor playground, which was actually an indoor trampoline – Hangtime. The trampolines could only be used by children over the age of six, but for younger children there was a nice wooden play area with a slide and ball pool. The children could crawl into the adjoining café through a small tunnel, while adults could use the door. We visited the trampoline hall and Café Hangout twice during our stay in Oostende. We highly recommend stopping by the Hangtime if you are in the area! The coffee was great, the café terrace was comfortable to sit on and the kids were happy on the trampolines and in the play area.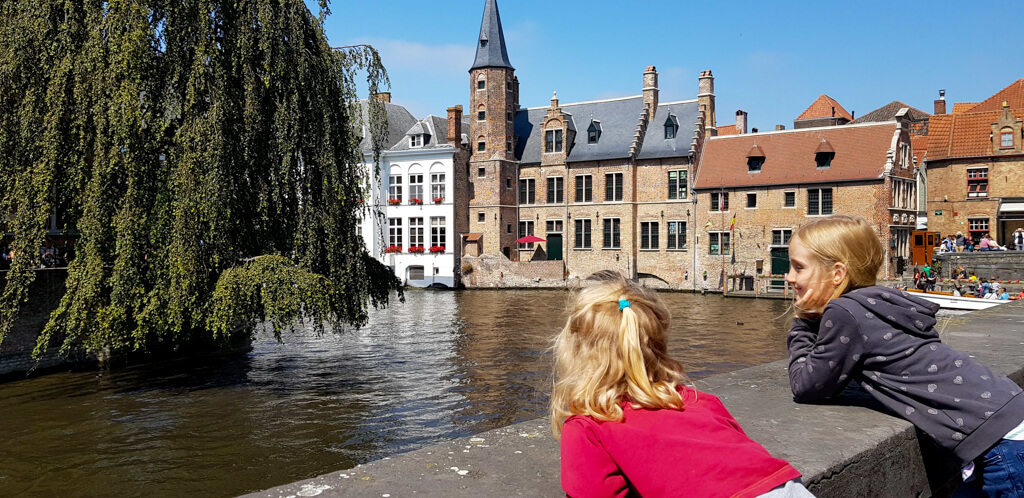 From Oostende, we also made an afternoon trip to Bruges, which was easily accessible by train, about 15 minutes from Oostende. You can walk directly from the train station to the city center. Particularly beautiful were the dragon benches, small galleries, the city's beautiful houses, and the hanging signs in front of the shops and cafes.
Our favorite activities in Oostende included eating waffles, playing in the sand, drinking coffee in the hangout while the kids played in the hangtime, and driving the ferry.