Yes. We did it! On our way back from Trento to Vienna, we decided to stop in Venice for one day. I was full of anticipation, since my last visit to Venice had been almost 20 years ago. Gregor and the girls had never been there before.
Dreams
Yes, I really thought (hoped), there wouldn't be that many people.
Yes, I absolutely underestimated the crowds and the walking distances.
Yes, I expected the girls (3 and 9 years old) to be so incredibly impressed by this special and breathtaking city, that they would be super excited and happy to finally be there. (Now it's time to laugh out really, really loud, I'd totally understand that!)
Reality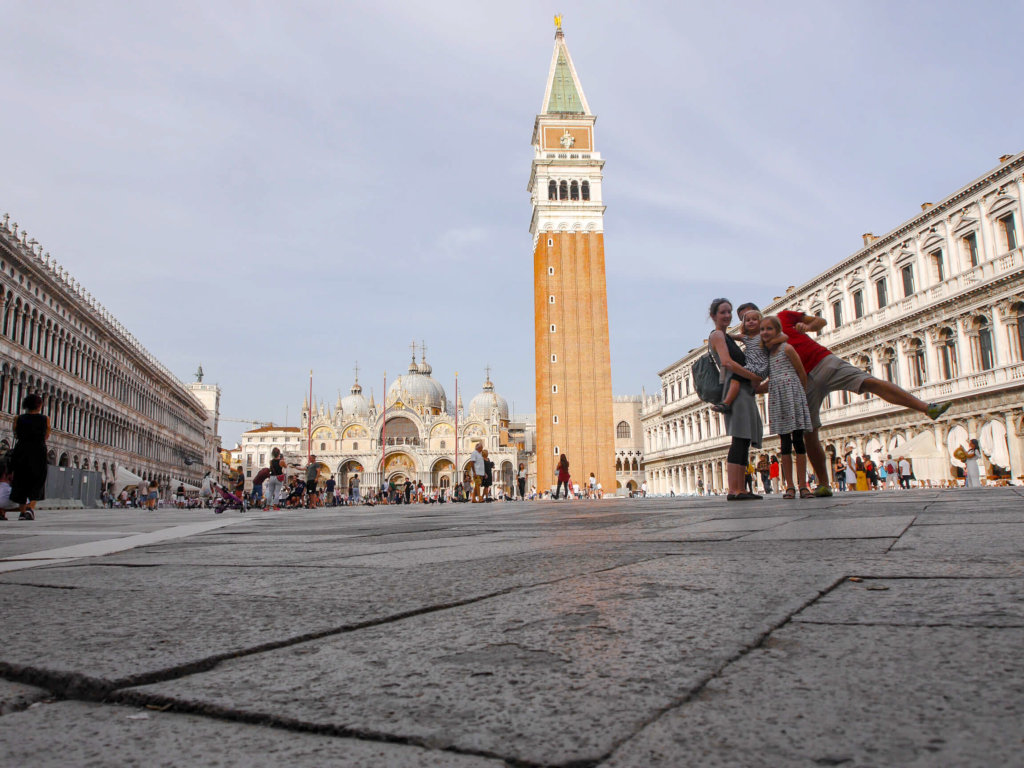 So, as you already may have guessed, reality looked quite a bit different:
Surprisingly we haven't been the only ones who had the idea of visiting Venice on this beautiful and sunny Monday afternoon. Stepping out of the trainstation, right next to the Canale Grande, my anticipation began to fade, right after the following dialogue. Me:"Ohhh, woooow, look at this. That's a canal! There are lots of canals instead of streets in Venice" (comment: ok, writing this I can see why it didn't have the impact I'd hoped for) The girls simultaneously (without noticing the stunning beauty of this city) :"I'm thirsty. My feet hurt. I'm hungry. Can we have some ice cream? It's hot. What are we going to do? I don't want to walk any more."
Well. We followed the crowd into the direction of San Marco, with two very hungry kids. And stumbled right away into a quite expensive restaurant (no suprise there, I know). But: the food was delicious and the biggest and most important outcome was: with full bellies everything seemed to be bearable. At least for a few minutes.
Vaporettos and the winged lions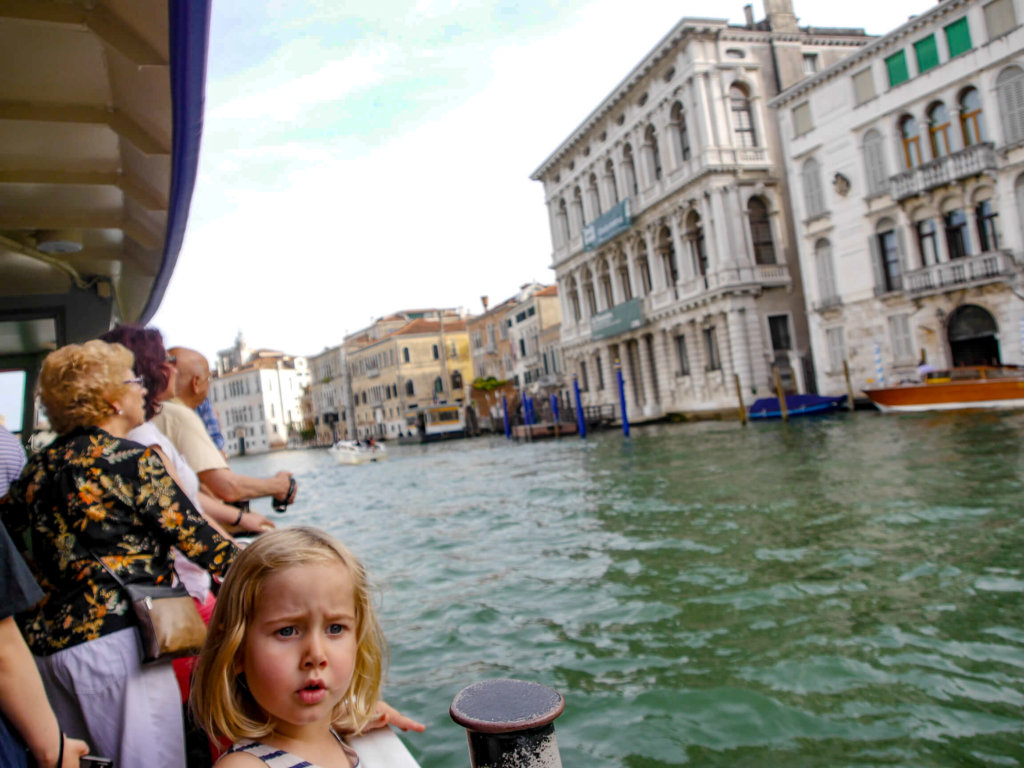 About 5 steps (!) after leaving the restaurant, we realized that there was no chance of getting our girls to walk to the Piazza San Marco. So Gregor had the awesome idea of going by Vaporetto (waterbus in Venice). Phew, that gave us some precious time to take a deep breath and decide what to do next. Starting to count all the lions through the whole city was a good idea, but only our older girl was interested in searching and counting. Our little one was hungry (again), tired (already) and didn't see any sense in looking for the winged lions.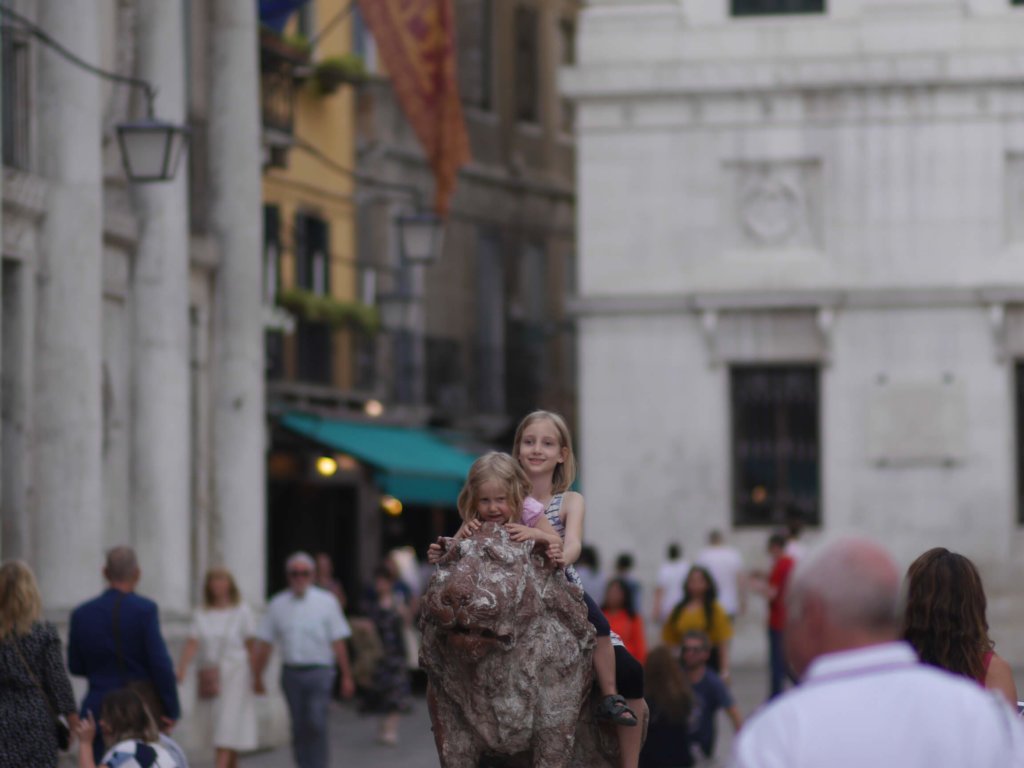 Arriving at the beautiful Piazza San Marco we found dozens of lions, stunning facades and the Campanile di San Marco, the famous and impressing tower and one of the most important symbols of Venice. We wandered around the beautiful Plaza and dodged all the pidgeons, that actually didn't understand why we wouldn't feed them or let them sit on our shoulders (yuk!). Then we decided to take a look at the Ponte dei Sospiri and head back to the Vaporetto to use our 75min ticket for getting into the direction of the trainstation, stopping somewhere on the way for some ice cream.
Too late
But we were a few minutes late and our tickets were no longer valid. THAT seriously was the best thing that could have happened to us. Remembering a rule of survival and very wise advice given by our friend Kash ("When everyone goes right, go left") we went back to the next lion statue, where our kids could climb on. We sat down on the steps to find out the way to the best rated Gelateria, away from the big crowds, using the little streets to get there. Second best thing was the idea, to leave the navigation to our older girl, who was immediately super motivated (and proud) to take the lead.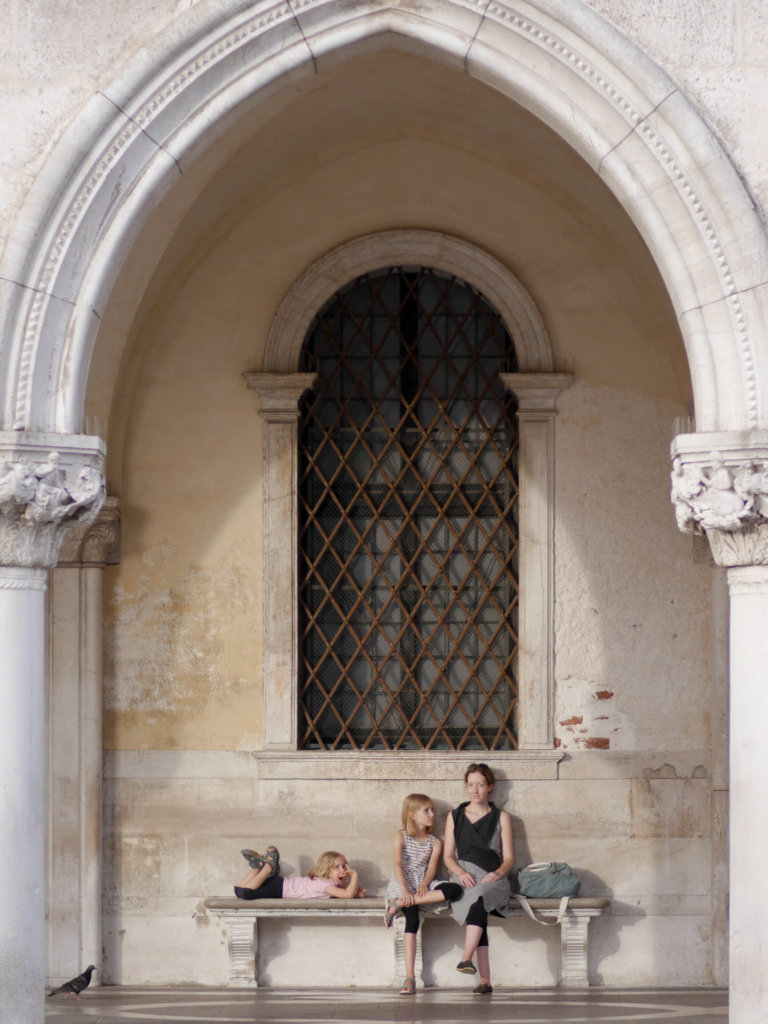 Lucky us!
We followed Sophia through all those beautiful small streets, passing little bridges and canals, wandering through parts of the city that actually felt like not only being beautiful facades but real homes to real people. Standing on one of those small bridges, looking down at the calm water, smelling the sea I watched the boats gently swaying on the little canal. While it was already getting late and dark, I felt peace coming over me in that moment. Like, peace with my crazy idea of visiting Venice for just a few hours on a really hot day (totally worth it!). And peace with the fact that we were too late for using our Vaporetto-ticket (lucky us! We would've missed the best part of Venice).
Our little one climbed the steps of the bridges, counting them and jumped down on the other side taking four steps at the same time (with a little help). With this opportunity to integrate some playtime into the walking and having her mind set on ice cream, suddenly the canals were interesting, the boats and gondolas fascinating, the little bridges and narrow streets beautiful.
The perfect ending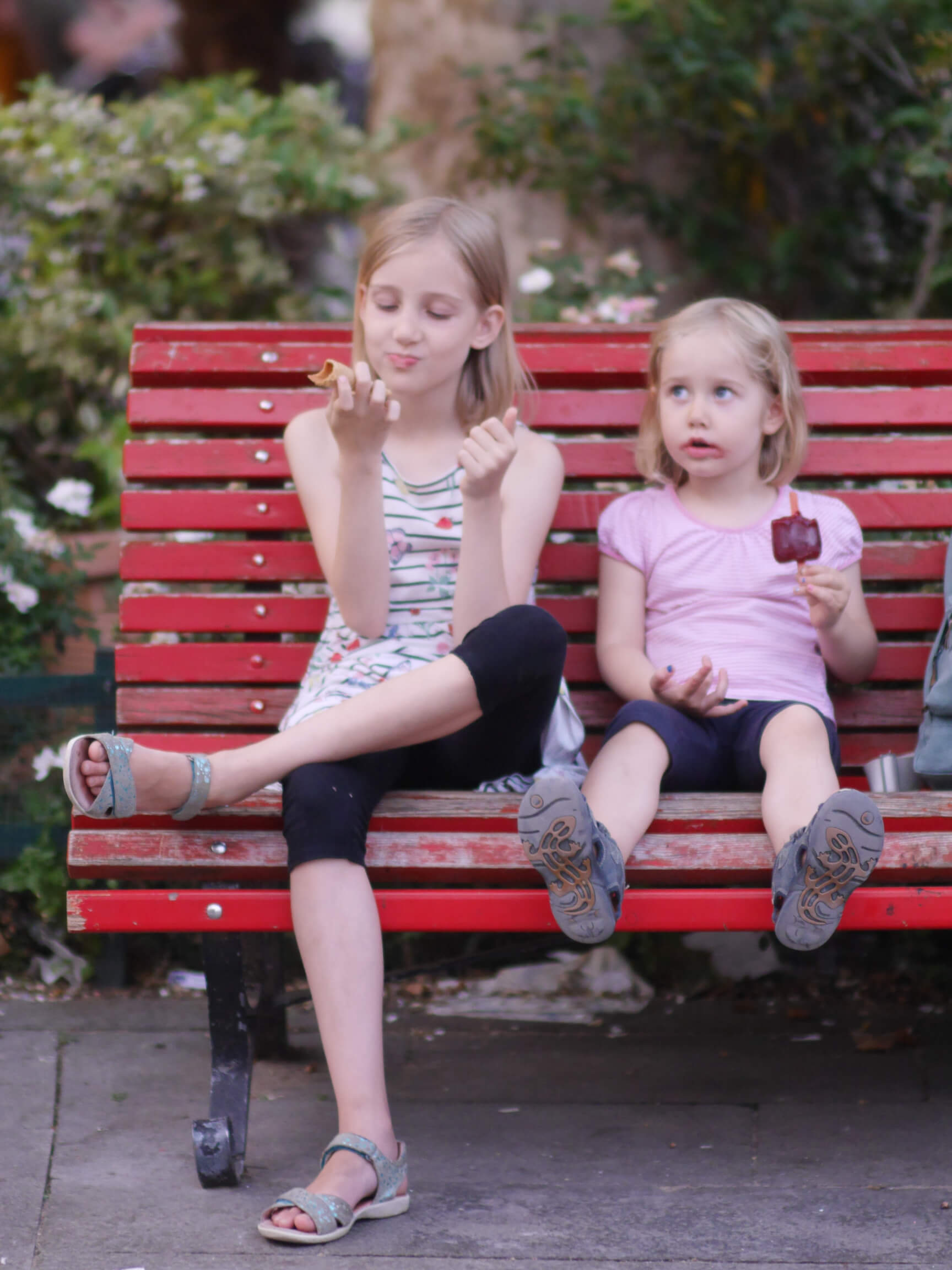 The ice cream was delicious! Right next to the Gelateria was a little peaceful square with a relaxing atmosphere and mostly local people around. It was the perfect ending for this afternoon in Venice. And it was only a few minutes away from the trainstation, where we then headed. With two tired but happy girls (one navigating, the other one almost asleep on Gregors shoulders).
So that's how we survived our daytrip to Venice with our two girls:
use the Vaporetto for some distances
let your kids count lions (or pidgeons 😉 )
count and jump down the steps on the bridges
risk a navigation take over (via app or an actual map)
have icecream!!
give your kids the chance to take pictures
if possible, don't bring a stroller. Many bridges do have ramps, but the little bridges don't.
"When everyone goes right, go left!" (Thanks, Kash, you saved the day!)