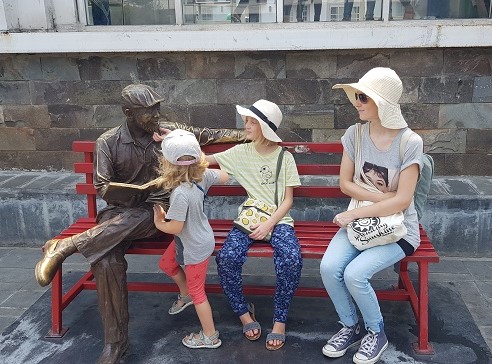 Jakarta was just a short stop-over on our way to Lombok and Gili Air. That was the plan. We arrived early morning after an exhausting 8 hours flight. But how do you plan a day with kids in Jakarta? One of the biggest and most exciting cities in the world.
We just picked a neighborhood: Kota Tua

Table of Content
Well, you can't see everything in a day anyway. So the best option for us was to cut activities down to a minimum and only explore the surrounding of our Hotel. That was exactly the reason why we booked a hotel near the colonial old town, Kota Tua or Old Batavia.
Apparently this part of Jakarta is the most relaxed, in terms of buzzing traffic and megacity craziness.
The old colonial buildings, the wide and open Taman Fatahillah square and the small pedestrian zone really make this part of the town feel like an Oasis in the midth of this honking, smoking and buzzing metropolis. Both thumbs up for Kota Tua.
First things first: Breakfast
We stayed one night in the Mercure Jakarta Batavia near the beautiful, large and busy Taman Fatahillah Square. For that one night we treated us with a hotel room with two large beds and breakfast. On the first day we arrived at 7:00 am and luckily we were able to check into the hotel earlier. We had to wait a bit, which was not difficult because breakfast was still available. Ha! We didn't hesitate for long and here's why: The breakfast buffet was spread over the whole large breakfast room and there was everything your heart desires. Different Asian warm dishes with rice, dim sum in all sizes and filling variations. Sushi, donuts AND chocolate cake, other bite-size tartlets, waffles, toast and a huge selection of fruit. Ah, and cornflakes with milk: our children's varied and creative choice.
After two weeks in Namibia of preparing more or less delicious meals on the gas cooker, where all the variations consisted in overcooked / salty rice OR noodles or whether we added corn or beans, this breakfast buffet was quite impressive.
Breakfast and a short night on the plane first had to be processed. Happy kids because of the TV, happy parents because of the big and comfy beds.
Crossing the Streets like a Pro in Kota Tua
Then off to our trip to the nearby Taman Fatahillah square. Although there were only two streets and a medium-sized intersection between our hotel and this square, it was challenging to get there safe and sound.
Wherever there were sidewalks, we had to share them with cars that generously left about 10 cm of sidewalk, on which we balanced along with the children. In order to get across the street, we sometimes joined local people, which turned out to be actually quite risky. Because THIS ability, waiting for the right moment and take advantage of it and putting across an absolute fearless attitude: THAT has to be learned. So we rushed across those streets and crossroads, with children on or under our arms, all parts of our bodies pulling in and swinging at the same time to avoid cars, motorcycles and people, and with our eyes wide with fear or narrowed (which is not that smart).
The Taman Fatahillah
We were lucky and got to our destination unscathed. The Taman Fatahillah is the main square of Kota Tua and was full of music on this day – musicians stood on all four sides of the square and on three of four corners, partly in larger groups, partly alone, and played and entertained the square with a wide variety of music styles.
Particularly beautiful: the colorful bicycles with luggage racks, which you could borrow with a color-coordinated, wide straw hat and do some laps on the wide square. The mood all around was wonderful, relaxed, happy and incredibly carefree.
Visiting Asia with two blonde Girls
But then they spotted our two blonde girls. Sophia and Amélie ran to us, suprised and startled at the same time. We had already discussed the photo and selfie topic with them, but when the first crowd of people stood around them, spoke to them in English and waved their cell phones and cameras, it was understandably too much. Quite amused, Sophia and Amélie then had a few photos taken with them until it became too much for them and they just left. Absolutely understandable!
Time for the best Dessert in Kota Tua at Café Batavia
For the almost two days in Jakarta we didn't have many plans, except to go to the famous Café Batavia. It's one of the main attractions in Kota Tua, just right at the Taman Fatahillah and we wanted to at least have a coffee there. And surprisingly we actually got a table. The interior, the decoration and photos on the walls alone are reason enough to go to the café when you are in this corner of Jakarta. Oh, and don't forget about the dessert! Waiting time should be planned, we waited a good three quarters of an hour only for the bill.
We managed to stay in one of the world's largest cities and basically only explored our neighborhood, but when you travel with kids that often does the trick. Strip your plans down to a minimum and enjoy this to the fullest.